Been working on a couple of commissions this week. First a big dish for English Heritage. They are recreating medieval interiors at Dover Castle, Time Team are filming the project. I did them a load of bowls and mazers earlier but they had a last minute request for a big dish to put a boars head on. It took me a while to find any sort of precedent, there are no surviving medieval boards head dishes not surprisingly. The nearest I got was 200 years earlier, smaller and in Oslo but better having something to base it on than nothing at all. We liked this one because it had chevron chip carving round the rim, a motif found on contemporary stonework locally. Any way here is the Oseberg plate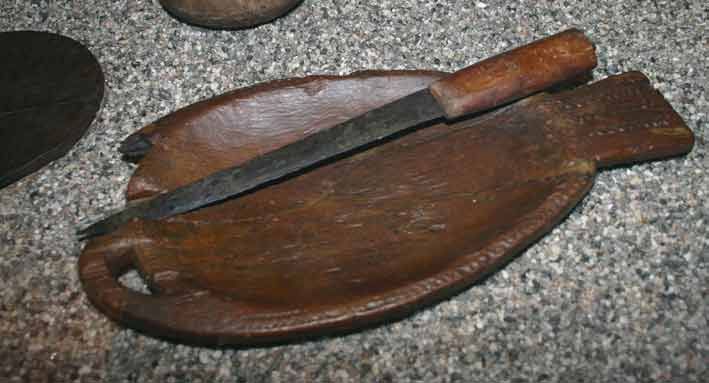 and here is my scaled up version in progress, because they wanted it quick I had to use dry wood and the only bit I had big enough was a 2" whitebeam board I milled a couple of years ago, it was rock hard.
I ground an old chisel to a finely beveled skew and it did a great quick job of the chip carving, first time I have done it.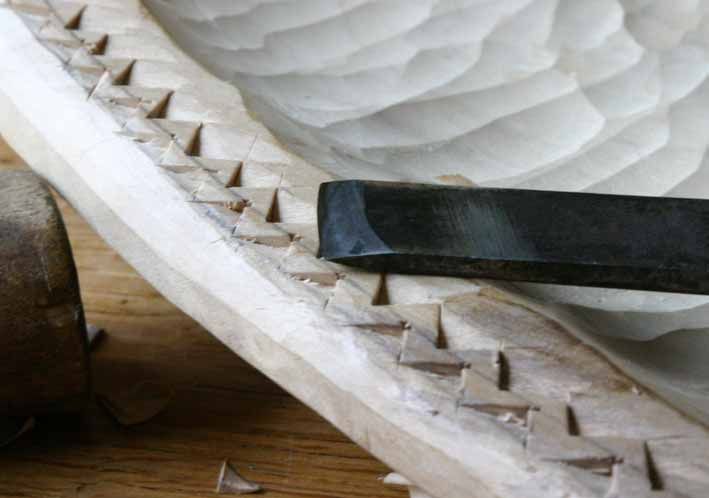 The other commission was for a soup ladle but the birch crook I made it from was huge and I am not sure if it is going to finish up too big for a domestic ladle or not, here it is roughed out, I'll let it dry a couple of days before finishing.
and another to show the scale