This was for a Secret EB on another forum.
I decided I was going to make beaded tulips; I remembered making some beaded flowers about 25 years ago - but couldn't find the book with the instructions; I could remember the basics but not any finer points.
Fortunately it seems to be quite a popular craft in the US as
French Beading
and I found a goodly book on Amazon and UK beadshop online selling 3mm seed beads in single colour mini-hanks.
It too rather a long time as (like Peter in another thread) I was rather out of my comfort zone! However having started I wasn't going to give up.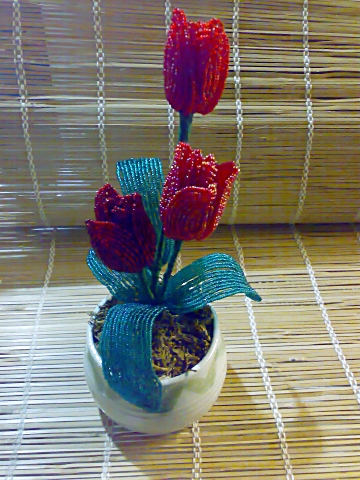 The stems are a bit short as the flowerheads are quite heavy with the wire and a full mini-hank in each one. I used 28gauge wire and 32 gauge to lace across the back.

Packaging for posting was another problem - but it's gone off today with my fingers crossed.