Just had to show you this necklace set I made this week for a commission. I ordered the smokey quartz beads fa couple of weeks ago but I was a little worried as I bought from a Chinese seller on ebay that I hadn't used before and you never know whether you're gonna get conned or not until they arrive. Well the pics of the beads were stunning so I figured if they're half as nice in real life, then I'll be ok. When they arrived I was amazed cos they're absolutely stunning - faceted rondelles and faceted trapezoids. They weren't cheap and when I'd finished the piece, it worked out pretty expensive as the rest of the components are large crystal ab swavs and its all sterling. I had gone way over my customer's budget.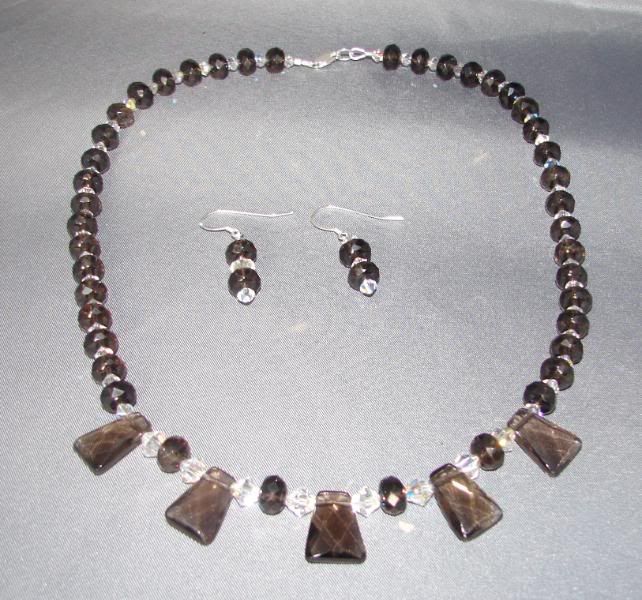 In view of the fact that my customer spends rather a lot of money on our stall buying crystals and rock specimens and she brings us little presents regularly, I do consider she is a friend as well as a customer so I decided to not charge her for my time in order for the price of the set to be within her budget.
The look on her face when she opened the box was payment enough. I don't know which one of us was more pleased - me for finding the beads to make such a stunning necklace for her or her for me not charging her full price. I know its just a very basic design and not very creative but the quality of the beads really does make this a beautiful piece of jewellery.
Thanks to my lovely mate goldy for taking the time to photograph some of my recent makes, this being one of them. She makes it look so much nicer than my camera did and without wanting to diss her skills, the beads in this necklace really cannot be captured in all their beauty on camera.
Needless to say, I just had to order more of the rondelle beads!
They arrived today and I've been sat stroking them for the last couple of hours.