I have been starting my Christmas cards for a couple of week's now but only got round to actually scanning them in
. I have put 2 of the ones i done today below hope you like them.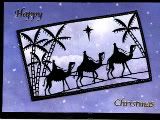 I like the 2nd one better but it wasn't easy but got there in the end - only cos the peel off sticker kept on going where i didn't want it to!!!
Catch you later
Christine