Made quite a lot of stuff for the stall this week so thought I'd show some of them. Comments - good or bad - appreciated.
We're always getting asked for jewellery for men so I thought it was about time I made something other than just a pendant on a necklace. I made 3 bracelets using magnetic hematites, ordinary hematites and gemstones - one in tiger's eye, one in sodalite and another with large turquoise chips. Unfortunately I forgot to bring the tiger's eye home with me to photograph so you only get to see the other two and in my opinion its the best but never mind.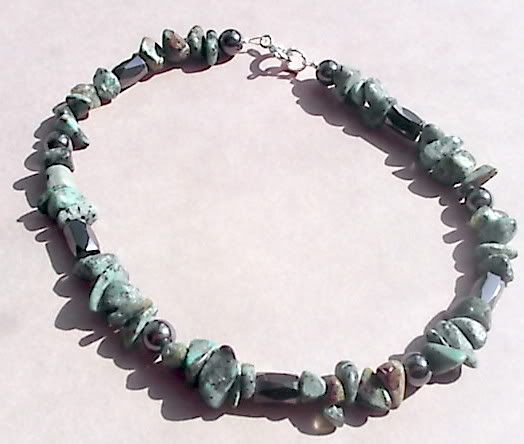 I also made some very simple chakra bracelets that went down really well - sold 2 straight away and got orders for another 4 as I was making them so I was well pleased with that. Made using one of each of the chakra colours spaced with twisted silver lined bugles.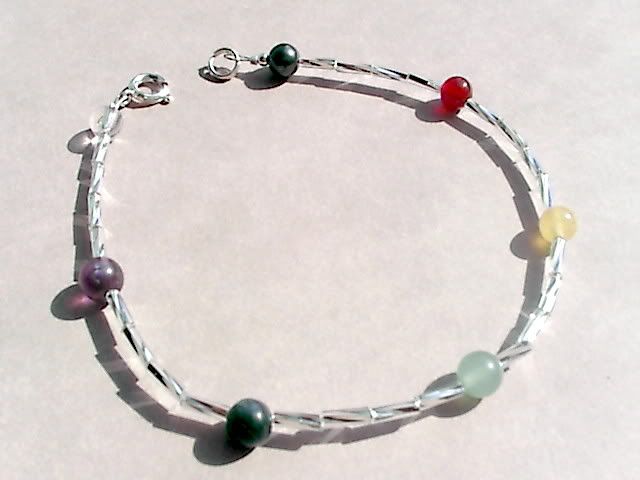 Next we have some flourite jewellery. A chunky bracelet with stunning multi-coloured fluorite beads (each bead contains at least 2 different colours) and I also used some purple howlite rondelles and bali beads to space.
My next piece is another fluorite necklace. I wanted to create something with all the colours in it - purple, blue, pink and green. I also made a pair of earrings to go with this but forgot to photo them with the necklace.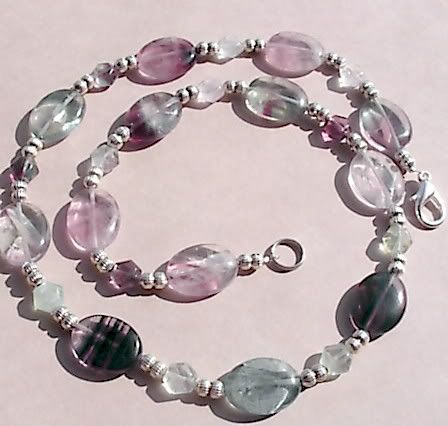 And last but not least is a jasper, tiger's eye and swarovski necklace and earring set. Not sure what jasper this is (bought a bracelet without a label and took it to pieces) but there's lots of brown, beige and yellow in them so I teamed them with some tiger's eye and some light topaz swarovskis cos they really are more yellow than topaz.