SIGN UP'S NOW CLOSED





Any active member of the forum is welcome to join, but you must have been a member for at least 4 weeks prior to this post date.
Your gift must be handmade with love by you.
Your present is to be sent recorded delivery no later than Friday 8th April (please wrap it up nicely ~ If you aren't skilled in wrappig gifts, then ask someone you know to do it for you!!!) You can put details of your identity into the wrapping.
It's obviously hard to put a cost on a present, as different craft materials vary so much. So we have decided to say a material cost of up to £5. Just try to make your gift special for your recipient !
Cut off date to join and be a Secret Easter Bunny is Friday 18th March and I will try and get your recipients details to you by that following week.
Unless you pm me your name & address, you will not be signed up.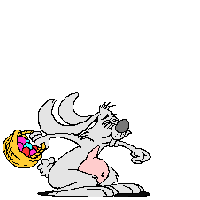 This years EasterBunny is being organised by me (beadsbydesign)
If you qualify and you want to be in it, please PM your name address and main craft skill to me.
The small print:
DO NOT sign up if you are not comitted as we don't want to let anyone down
. Please endeavour to send your gift promptly.
Please make sure that you acknowledge receipt of your gift on the acknowldge thread and also on the show and tell thread after Easter
If you are willing to be a Good Egg (the Easter equivalent of an angel, ie if a participant pulls out to provide a second gift) please let me know.
[IMG]http://*****************/easter-smiley-17726.gif[/IMG]
ENJOY!!!
This year we will not be having a "what do I want" thread as this adds pressure to the people making your gift and as your gift will be created with love ... that's all that matters!
Do not open your gift till Easter Day (Sunday 24th April)
(Indri ~ Feel free to decorate the thread!) [IMG]http://*****************/easter-smiley-17728.gif[/IMG]
Signed up so far: (updated 9.00am 16/3/11)
Annnoble
Beadsbydesign
candles by Lisa
Daesul
Dreamstar
etvoila
Fluffy Squirrel
freshfruitsalad

Gemmaslittletreasures
Glitz and Glamour
Greannancrafts
goblindreams
Handywoodcrafts (wife)

Indri
Loody
Moonbeam Angel
MornieG jewellery
Nikkii

Roselet
Pauline @wedding treasures
planty28

pretty things
samigale

silver thistle
Sparklyshoes

Staceyjlew

Venusrocks