I kind of make my card for Christmas and then send them out to close friends and family, I dont make to sell, so I dont have to be commercial in my approach, and my family understand (if failing to appreciate always..!) my at times quirky humour..
As other folk post their cards and stuff here, and I really enjoy seeing what other people make, I thought I would give it a go too - though sitting here writing this I'm beginning to feel like the naked person in a room full of strangers!!
(no peeking, it's not pretty!)
I don't have photos of the finished cards, but I do use tweaked or wildly modified photo images to create them, for the most part the finished image is then printed out at a photo processing shop, and I use foam pads to fasten it on to plain white card, but I am sure you can imagine what a plain white A5 or A6 card looks like!
The one exception was the fireplace card, which I meticulously cut out piece by piece (NEVER again!) and decoupaged as a 4 layer design on to a dark green mat.. far too fiddly for my pudgy fingers!
hope you enjoy looking! in approximate date order, from 2004 when we first got Sparky the Dog from Manchester Dogs Home..
2005
2007 (This one also had some irridescent glitter glue highlights to add a bit of sparkle to the wings)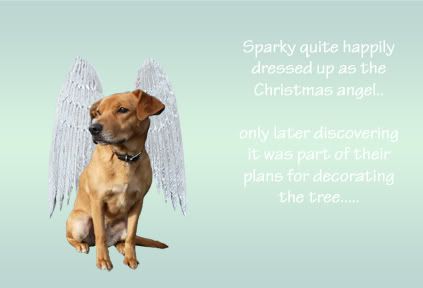 2008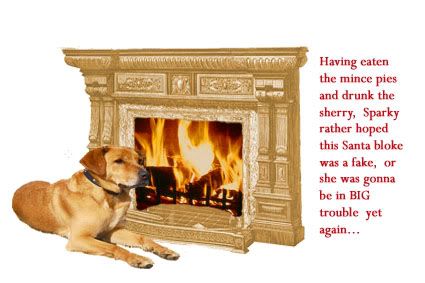 This last one was for my O/h's brother, The original pic was of their Aunts and Uncles taken in the 1930's.. Although he chose a simpler finish, this was the version I liked best, posterising the image has slightly depersonalised the photo, and yet I think it still looks like a portrait of "real" people..
Howards Card Design