Hey everyone woo it feels like forever since I got chance to visit the forum again.
I have been a bit busy and had a lot of organizing to do and started a new chef job, I'd like to introduce the best reason for not using a computer and soaping..lol. I hope the pictures work.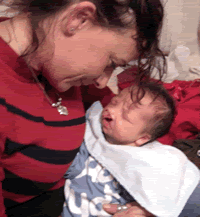 This is Alyx Brennen Gibson at 1 week old.. he is my GuardianSon and is soooo sweet I must bore him as he just sleeps when he is near me even during nappy changes.He has a hare lip and cleft palate but is just as cute as a button. His mum is Joolz a long time freind of mine who i met through her husband.. Last night she told me how she felt about the first time she met me its not often she said you get to meet your husbands (building trade)work collegue who pole dances and does weird stuff and is single lol she wanted to hate me before she meet me now we are really close freinds and in a few mths I'm going to teach her pole...
It's nice to be back reading the posts and catching up..