Reading AuntyNet's thread about A Little Appreciation brought this to mind. Dad died at the end of January 2007, a fortnight short of his 93rd birthday.
He'd spent the last few years of his life in residential care - not because he needed it despite his visual handicap, but because Mum's stroke had increased her dementia and he would not have been able to cope with her at home. So he decide to sell the house and go into care.
Fortunately when Mum was due for discharge a local home had a double room vacant and were more than willing to accommodate the cat and dog as well, they would have taken Dad's hens if we provided a hut and run but the hens were rehomed to a place where a banty cock found these large Light Sussex hens a great delight!
They'd been there 3 years when Dad started to go downhill and visiting was difficult for me, I'd always been "Daddy's girl" and to have no witty responses to my remarks was a great blow.
The staff were great - they took over the walking of the dog and tried their best to keep Tom in good spirits.
His last words were "Is this the one I chew or the one I swallow" and an hour later when they went in to help him dress he died in their arms. His key worker was devastated as, in 20 years of working, she'd never been present at the moment of death.
I found that organising his funeral, he'd specified "no religious service", and printing out an order of service actually helped me work through my grief.
A friend in Llangollen had a shire horse and Yorkshire wagon - but she said that, as she was working full time, she wouldn't be able to get her wintered out horse into good enough state and we also came to the decision that a waggon with sides would not be easy to transfer the coffin. She put me in touch with a semi-retired couple with a shire and a flatbed wagon.
I made Corn Dolly favours for the horse's harness, Dad used to make them for his team when he was taking a wagon to market, and a small Corn Dolly to go with a single white rose and spray of juniper on the coffin.
There wasn't a dry eye in the small congregation as his four grandsons brought in the coffin to the Battlefield Band's
Last Trip Home
but people had happy memories as we walked out to the Watersons'
Jolly Waggoner.


There were family and friends who couldn't attend so I put the funeral on my
website
. It's not usual to take photos at a funeral but the manager of the crematorium had his camera there also - they'd never had anything like this before.
My SIL said that while they were waiting in a car park to pick up one of their offspring there was a hearse with black horses and ostrich plumes and she'd said to the others that that was what she would like, however when she saw Tom's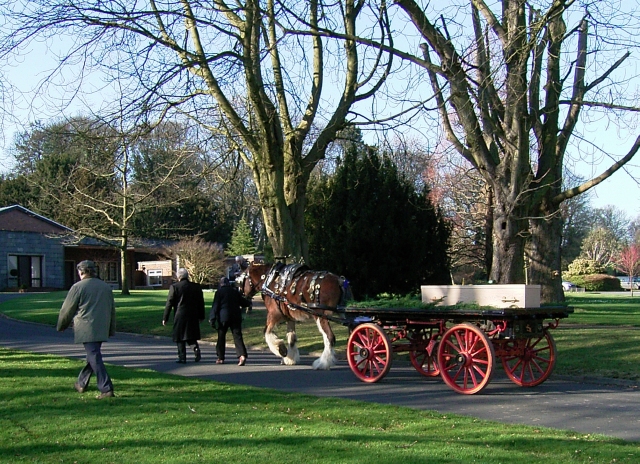 she'd changed her mind