LOOK who arrived in today's post - yes, its a couple of Swirlys fabulous chicks! They had been transported in the most funky recycled envelope I've ever seen and were a little deflated after their journey but soon perked up after a nice big bowl of rice and a bit of fresh air......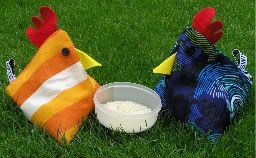 Now yesterday Swirly did warn me that they might be a bit cheeky and no sooner were they settled in than they decided to check out their new 'pad' and then decided to entertain themselves for a couple of hours on the X-box (my son was a bit put out because they hogged his new Lego/Raiders of the Lost Ark game !)...
...anyway, they are happy enough but they have already told me they dont want to be separated and I am beginning to think this might be a case of chicky-love...
(I know I am already in love with them and if you want your own chicken you'd best get across to Swirlyart's etsy pages pronto before they've all flown the coop!)
Big thanks Swirly
.